So today I got up and knew that I could no longer let my messy bedroom closet control my life. Feeling much better after lots of rest, I decided to spend the day on this task. It is my entry into
Org junkie's 30 day Organizational challenge
. I chose to do the smaller space category with my closet, but honestly I've so much success with it, I might keep organizing throughout the house just for fun. So here are the pictures, but I'm warning you, the before ones are graphic

(how did I ever let it get this bad?).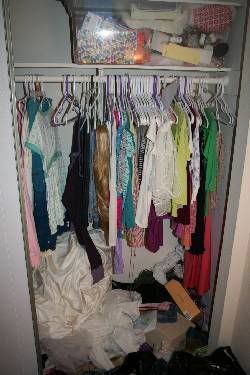 I can't remember the last time I saw the bottom of my closet before I decided to do this. It was covered by numerous pair of shoes, random shopping bags, clothes, a suitcase, and most ridiculously of all, my wedding dress (just laying out there, no linen bag or any thing *shame on me*). Most of clothes had once been on hangers, but I was surprised to find that the majority of them were on the floor when I began cleaning. This would be thanks to our lovely cat Cookie, who can be seen posing in the picture with the items I'm giving away to charity. Apparently, Cookie would literally climb the clothes in my closet to get up in the top and sleep. Many of the clothes therefore, ended up on the floor. Argh!!
You will notice in the second photo all the things on the floor. Those items fell out when I opened the door. Gosh! What a challenge this would be!
So like org junkie says I completely emptied the space, item by item.
I found a zippered linen bag for my wedding dress and promptly closed it up and put it away in the spare closet. This is where I also put the suitcase which I chose to fill with my winter clothes since I won't be using them any more this year. See below.
Then I pulled everything else out the closet to get it empty and evalute my situation. This is what I ended up with.
My bedroom was full of junk! Junk that had somehow all fit in my closet…crazy! The closet was however, finally empty.
So what to do now. I began to sort everything and decide which items would stay and which ones would go to charity. Any clothes, shoes, or accessories that I hadn't used at least 6 months before I became pregnant were to go. I mean seriously, at that point they were just taking up space. Igot rid of so much! Purses, shoes, and all kinds of clothes, I couldn't believe how long I had kept some of these things, even though I wasn't using them. I seriously wonder why as humans we have a fear of leeting things go, even when they are useless.
Here is what will go to charity.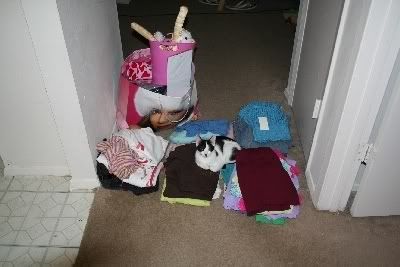 The cat..unfortunately..is not going. Ok ok, so I like the cat (a little) but I couldn't believe that she managed to knock down all the clothes in this pile.
After sorting what would go to charity I managed also to fill an entire trash can with shopping bags and shoe boxes as well as clothes and shoes that were too tattered to go to charity.
Then I began to hang my clothes back up. I started at the right corner with dress clothes. Dresses, dressy tops, and dressy spaghetti strap tops in that order from right to left. I bought some extra hangers just for this task and they went in the closet next. I have always tradtionally used white hangers, but this time I bought some purple ones to go with clothes that have to be dry cleaned. After the hangers came casual t-shirts and then tank tops. Here, (as you can hopefully see in the photo below) there is a rod holding up the bar for the clothes to hang on. I used this as my "divider" between tops and bottoms. So everything to the right of it would be tops and everything to left bottoms. I hung my pants and skirts in the same manner as my tops, sorted by dressy and non-dressy. Over all I think this turned out fabulously.
After
I managed to reorganize the tope of the closet as well (see above photo). Unfortunately the large tubs (which contain holiday decor) have to stay there for now, as we do not have an attic for them to go in. But I moved them to a spot I like better than before. I took all the handbags I decided to keep and rolled them up. I placed them inside the pink backpack. Then I left my three nicest pairs of shoes in their boxes and placed them on the shelf.
I took the shoes I wanted to keep and lined them up on the floor of the closet. Since I have so many flip flops, I placed them all in a pink bucket at the right corner so they would take up floor space. (see below)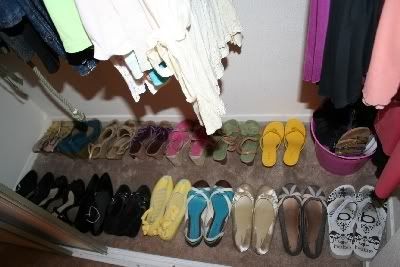 I am so pleased with how much I accomplished! My closet looks great and I feel good knowing that someone else can benefit from all that stuff I'm sending to charity.
The best part is that I found some really special things while I was cleaning, that I'm going to have a big surprise post about tomorrow! Curious??? Come back tomorrow and see what I'm talking about.

That's it for now! I'm exhausted from all that cleaning. Hope everyone has a great night!